Abrar Khan is among the dozens of people who receive treatment at the Rokhana Saba drug rehabilitation center in northwestern Pakistan.
"I used ice for about five years," the 18-year-old told RFE/RL's Radio Mashaal, referring to the local name for crystal methamphetamine. "Ice is available in every area, even in villages."
Although there are no official statistics, health professionals in the South Asian nation of some 240 million warn that addiction to crystal meth is soaring.
The spike has been most visible in the restive northwestern province of Khyber Pakhtunkhwa, which borders Afghanistan, a major supplier of meth in the region.
Saba Khan, who runs Rokhana Saba, said her rehabilitation center in the northwestern city of Charsadda is nearly at full capacity, providing treatment for 80 people.
"Around 85 percent of people getting treatment at my center are ice addicts," she told Radio Mashaal. "They are mostly young people."
Khan said a "large number of university students" are using meth. "When they take a dose, they stay awake for 24 to 48 hours. So students use it to study."
Meth is a highly addictive stimulant that can be injected, snorted, smoked, or ingested orally. Health experts say users get a "euphoric high" that can last from minutes to several hours. Meth abuse can lead to anxiety, insomnia, and violent behavior, according to experts.
"They suddenly feel happy and energized," said Khan. "They feel bold and then they become aggressive."

She said many of her patients began to use meth "in the company of friends, usually at music events and weddings."

Wajid Shah, who lives in the northwestern city of Sakhakot, said he became addicted to meth after trying it for the first time with friends during a music concert.

"My friends told me it has a special taste, and you will feel happy," the 27-year-old told Radio Mashaal. "So, I started using it. Whenever I used to smoke it, I felt very energetic. And I used to walk around without sleeping for several nights."

'Switched To Ice'

Tariq Mehmood is a program manager at the Dost Welfare Foundation, a charity that provides assistance to marginalized Pakistanis, including those addicted to drugs.

Mehmood said crystal meth is readily available and relatively cheap, making it attractive to young people. One gram of crystal meth costs around 500 rupees ($1.80), he said, compared to around 5,000 rupees ($18) when the drug first appeared in Pakistan around 2018.

"Ice has become the rapidly spreading drug in Khyber Pakhtunkhwa and Pakistan," he told Radio Mashaal, adding that crystal meth has overtaken cannabis and heroin as the drug of choice in the country.

Mehmood said the Dost Welfare Foundation has treated around 1,800 patients for meth addiction in the past year.
"Now, almost all the people who used hashish [and other drugs] have switched to ice," he said.

There are no figures for the number of Pakistanis hooked on meth. The last major report on drug use in Pakistan was released by the United Nations Office on Drugs and Crime in 2013.

That report found that around 6 percent, or nearly 7 million people, were addicted to drugs in Pakistan. The highest prevalence of drug use in the country was in Khyber Pakhtunkhwa, where almost 11 percent of the population used an illicit substance.

The real figures were and are likely much higher. Drug abuse is a taboo in Pakistan, a deeply religious and conservative Muslim-majority country where many do not seek treatment for addiction.

Anti-Drug Campaigns

Most of the crystal meth in Pakistan is being smuggled from Afghanistan, according to experts. The world's biggest producer of opium, the war-torn country has become a significant supplier of crystal meth in recent years.

Afghanistan's crystal meth industry took off around 2017, when drug traffickers discovered that the native ephedra herb could be used to make ephedrine, the key ingredient in meth.

The meth industry is booming despite the Taliban issuing a ban in December 2021 on the cultivation, production, and trafficking of all illicit narcotics.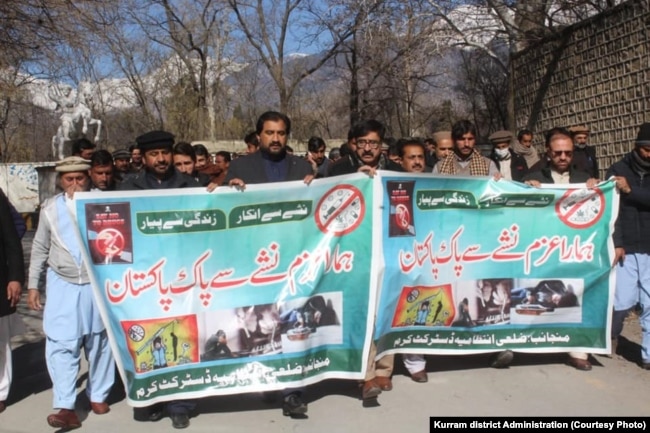 Pakistan has failed to stop the flow of illicit drugs from Afghanistan, and the lax enforcement of its anti-narcotics laws have allowed the drug trade to thrive, experts said.

"The investigation procedures are weak and the courts release drug smugglers," said Azlan Aslam, an officer at the Excise, Taxation, and Narcotics Control Department in Khyber Pakhtunkhwa.

"Due to judicial leniency, a drug smuggler can easily get bail," Aslam told Radio Mashaal. "They get released without being properly punished."

The authorities in Khyber Pakhtunkhwa earlier this month launched an awareness campaign to tackle what they said was the drug epidemic in the province.

"I don't think the government can control this only by using the police force," said Khan of the Rokhana Saba rehabilitation center. "There is [also] a need for awareness in society."
Source : Rferl