KARACHI: Osama Bin Laden's successor Aymen Al Zawahiri was assassinated in "an over-the-horizon operation" involving a "secret weapon" by the United States in downtown Kabul on July 31 – more than 11 years after the group's founding chief was killed in a US Navy SEALs operation in Abbottabad.
Zawahiri, the co-planner of the 9/11 attacks, was targeted on the balcony of a four-story house in the wealthy Sherpur neighbourhood of the Afghan capital where he lived with his wife and daughter who, however, remained unscathed. Photos of the building shared on social media showed the strike impact was centered on the balcony.
The safehouse belonged to a top aide to Sirajuddin Haqqani, the interior minister in the Taliban cabinet. Some senior Taliban officials and commanders also lived in a cluster of villas in the plush neighbourhood where besides Zawahiri some other al Qaeda operatives were also allegedly sheltered.
US officials said that gunmen of the Haqqani Network whisked away Zawahiri's family to some other location after the strike which proves they knew who resided in the compound.
Taliban sources confirmed Zawahiri was buried soon after his death. "We don't keep dead bodies for a long for two reasons. Firstly, Islamic Sharia teaches us to bury our dead as soon as possible. Secondly, Zawahiri's body was shredded, so burying it was a priority for us," Ihsanullah Tipu, an Islamabad-based reporter for The New York Times, quoted one Taliban source as saying.
The Taliban appear to have been caught off-guard. Initially, they denied the drone strike and referred to a "rocket" that had hit "a vacant house," before finally acknowledging that an "air strike" had been carried out by "US drones" but disputing the claim that Zawahiri was targeted. They had to reach out to their Emir in Kandahar for guidance on a formal reaction.
The Taliban's deniability is understandable given that the al Qaeda chief's presence in the heart of Kabul refutes their repeated assurances to the international community that they won't harbour jihadist groups on Afghan soil.
Whodunit
The neighbourhood, located just 1.5 kilometres away from the Afghan Presidential Palace, is off-limits to most people, which rules out an outside sneak peek at Zawahiri's safehouse. Since the US has zero on-ground presence in Afghanistan after their pullout a year ago, rumours swirl that it might have been an inside job. America's former point-man for the region Zalmay Khalilzad has hinted that the US may have been tipped off by the Taliban due to an internal power struggle between the Haqqani Network and the Kandahari Group.
Maj Gen (retd) Inam Ul Haque doesn't rule out connivance and cooperation. "Zawahiri, who eluded US intelligence agencies for two decades, couldn't have lived in the Diplomatic Enclave where the Taliban leadership, former warlords, and senior government officials own mansions," says Gen Inam, who has extensively written on the Taliban, "If the IEA was not aware, then this speaks of the incompetence of their intelligence service which I for one cannot vouch for."
Dr Michael Barak, a researcher at the Institute for Counter-Terrorism (ICT), doesn't rule out the possibility that the Kandahari Group might have shared intelligence with the US because they perceive the Haqqanis' alliance with al Qaeda as a threat to their efforts to stabilise Afghanistan.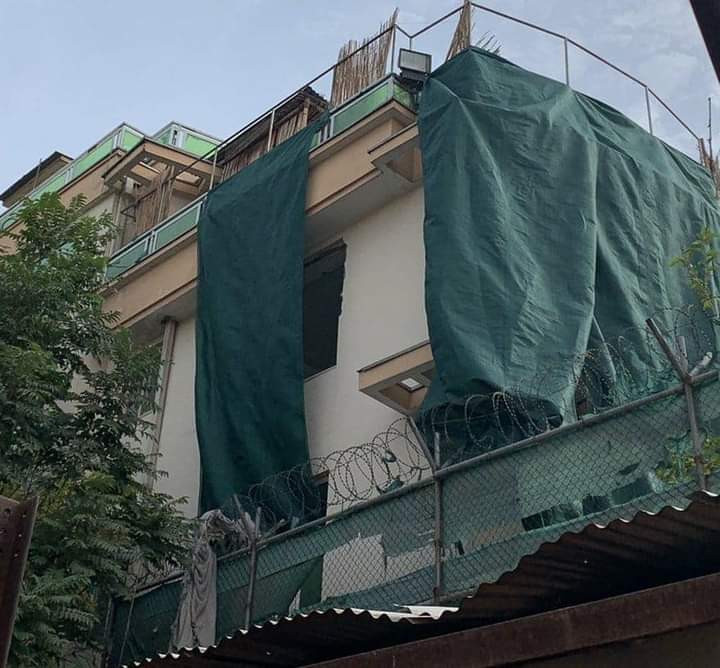 Zawahiri was targeted on the balcony of a four-story house in the Sherpur neighbourhood of Kabul.
"If true, then this would have been done for two reasons: 1.) to get rid of a factor that may risk the Taliban's efforts to stabilise and develop Afghanistan, and 2.) to prove to the Americans that the Taliban have chosen to live in harmony with the West and also to convince the US to release Afghanistan's frozen assets," says Dr Barak.
Tipu, however, doesn't think the leak could have come from within the Taliban. "I feel the US had left behind some people for ground intelligence and especially to monitor al Qaeda in Afghanistan," says Tipu, who runs The Khorasan Diary, a social media platform that claims to offer real-time information and analyses on Taliban militancy.
Moreover, the arrival of Arabs in Kabul had already become the talk of the town. Their presence had become obvious as they were brought to the exclusive affluent neighbourhoods of the city. "Such obvious presence of Arab nationals might have made it quite easy for the Americans to monitor them," says Tipu.
Was it Mullah Yaqoob?
Mullah Yaqoob, the Taliban defence minister who represents the Kandahari Group, is said to be trying to carve out a larger space for himself. He has also tried to become relevant to Doha, Qatar. He embarked upon an unannounced visit to Qatar in the last week of July in an unprecedented move.
Mullah Yaqoob reportedly met with some US officials in Doha. Speculations are rife that he might have leaked information on Zawahiri as a tradeoff for the release of Afghanistan's $3.5billion funds seized by the US.
Moreover, since he leads the Kandahari Group, he might have done so to increase his credibility with the US and also to neutralise the rival Haqqanis. Al Qaeda is a shadow of its former self and hence Zawahiri was virtually of no value to the Taliban; therefore he could have easily been given up in a quid pro quo.
But Gen Inam doubts Mullah Yaqoob would have done that. He is the son of Mullah Omar, the founder of the Taliban movement. "Look at his lineage. Also, when the US had asked the Taliban to hand over Osama Bin Laden after the 9/11 attacks, Pakistan, the UAE, and Saudi Arabia pleaded a lot, but the Kandaharis did not budge," recalls Gen Inam.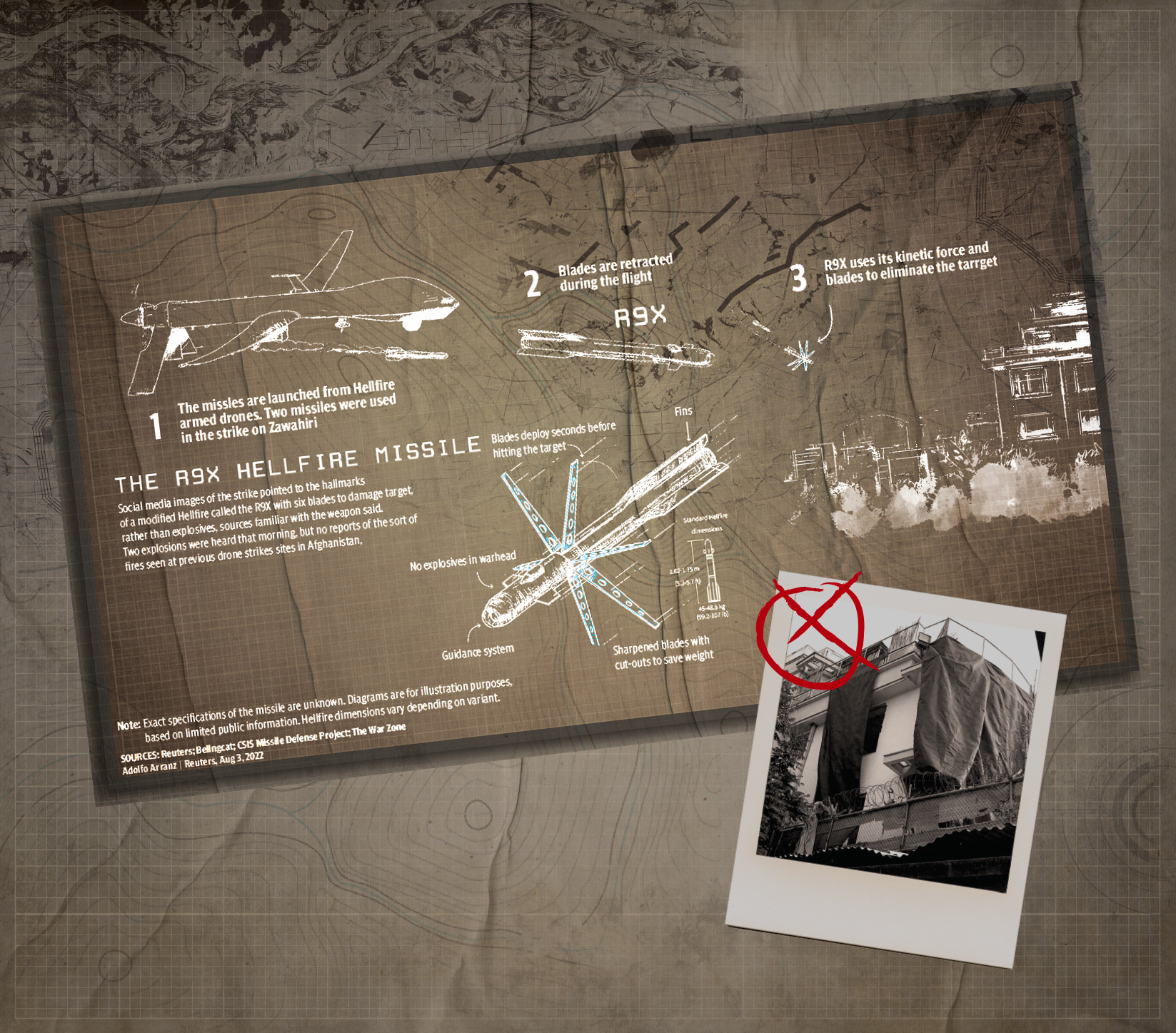 Dr Barak also finds it hard to believe – but for a different reason. "Mullah Yaqoob has a very prestigious status in the Taliban hierarchy. Moreover, he has a bright chance of becoming the next Emir of the Islamic Emirate of Afghanistan. This [betrayal of trust] would have undermined his status and diminished his chances to ascend to power," he says.
Kandaharis vs. Haqqanis
Gen Inam seeks to downplay the differences between the Haqqanis of Khost and the Kandaharis. Ideologically, the Haqqanis are subservient to the Kandahari Group which, being the godfather of the Taliban, still controls the movement.
"An internal power struggle is always there. It's everywhere. The Taliban might not be an exception. There might be a difference of opinion between the two groups," he says. "But I don't think this difference of opinion could lead to such a brazen betrayal by the Kandaharis. I don't buy that."
Not only that, Gen Inam believes ideologically, Zawahiri, or al Qaeda as a whole, is closer to the Kandaharis. "Al Qaeda might have a battle alliance with the Haqqanis but the group is closer in ideology to the Kandaharis. Who had sheltered al Qaeda in Afghanistan in the first place? The Kandaharis, right?"
Tipu concurs. "These differences are more political than ideological. Both factions are vying for maximum influence in the current caretaker Taliban government. But the Taliban supreme leader is considered to be a key element that keeps both factions united," he says.
"The Haqqani Network is both politically and militarily stronger than the Kandaharis, who are mostly ideologues. In the Taliban rank and files, ideological and military strength matters more than political."
Taliban suspects Dash
A pro-Taliban channel on Telegram, 'Anfal Afghan Agency', claimed the Islamic State-Khorasan (IS-K), in collaboration with Iran, might have helped the CIA track down Zawahiri. Sharing what it called "exclusive details", the channel claimed that IS-K's chief Shahab al Muhajir sent a "contaminated" letter of allegiance to Zawahiri that revealed his location to the Americans.
The Taliban claim to have found corroborating evidence at the site including the "letter of allegiance" and a flash drive.
Zawahiri moved to Kabul after the Taliban takeover to hide in plain sights like other al Qaeda and Taliban leaders. Zawahiri's family discreetly moved out of Iran to live with him. "Like all leaders of clandestine Islamist movements," Zawahiri didn't arrive in Kabul through the Taliban. Someone else, possibly the Haqqanis, might have brought him to the Afghan capital.
Factoring in India
The targeted compound is just a few minutes' drive from the Indian Embassy in Kabul where technical staff is currently based. Interestingly, Zawahiri's second last video message was about Muskan Khan, a burqa-clad Indian Muslim girl who dared a group of young saffronites and shouted "Allah-O-Akbar" in front of them in Karnataka state in February 2022.
Eighty-two percent of officials of Afghanistan's former spy agency, the National Directorate of Security (NDS), have been allowed by the IEA to work in various ministries due to a lack of technically qualified resources in their ranks. They could have been a source of information for the Indian Embassy because the NDS and RAW worked hand in hand during Ghani's rule. There is a possibility that the Indians might have got the information from NDS and shared it with the Americans.
The Ninja Bomb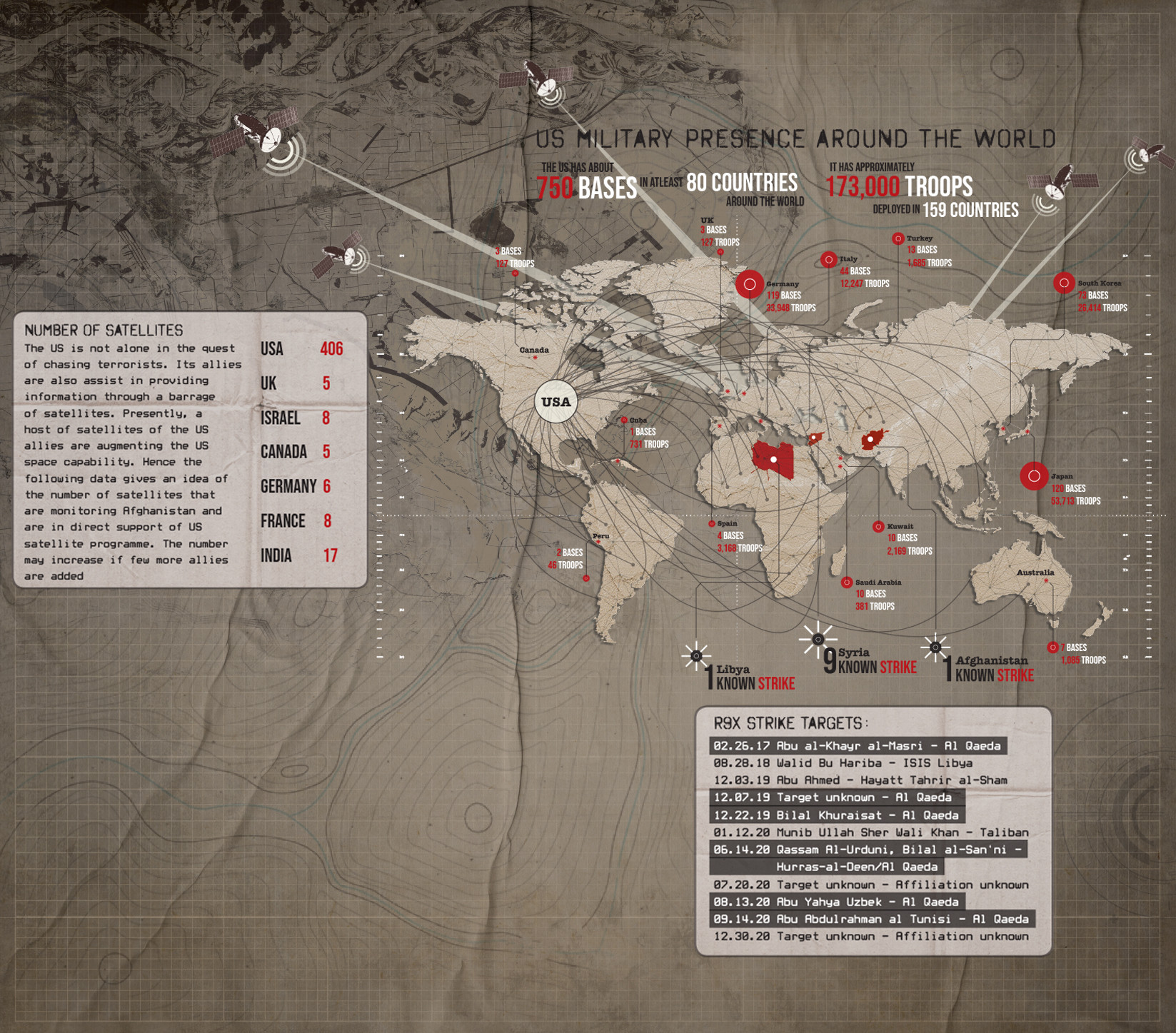 Zawahiri's compound had no traces of explosion nor was there any collateral damage, although his wife and daughter were present in the house when the drone struck. Photos show windows on one floor blown to pieces, but the rest of the building is still intact. This triggered a debate and speculations on how the 71-year-old al Qaeda chief was eliminated.
Although US officials did mention the use of 'Hellfire missiles, the commonly used version, 'Hellfire AGM-114' creates a powerful explosion and causes collateral damage. Speculation abounds that the CIA might have deployed the lesser-known variant, Hellfire R9X, also known as the 'ninja bomb'.
According to Le Monde, the R9X was developed under the Obama administration and is said to lack an explosive charge. Equipped with six blades that deploy before impact, it shreds its target without any blast effect. The Pentagon or CIA – the two US entities responsible for targeted assassinations of extremist leaders – has never officially acknowledged the use of the R9X.
Jake Godin, OSINT expert and reporter for the US-based Newsy network, says that The Wall Street Journal initially broke the story on this secret weapon's existence in 2019. "So some of our information [about the R9X] comes from that… [and] a lot of the information available on the R9X is what's publicly been seen in the open source space, like with videos or photos from suspected strikes," he says.
The R9X is suspected to have been used in multiple cases "mostly in Syria, though potentially one in Libya in 2018, and one in Afghanistan in 2020," he says. "The earliest strike we've seen suspected of using the R9X was on February 26, 2017 in the Syrian city of Almastumah where an al Qaeda deputy leader was targeted."
Explaining how experts concluded that the 'ninja bomb' was likely used in these cases, Godin says the strikes bear certain visual hallmarks that are unique to an R9X strike as opposed to a more conventional weapon. "As we've only seen them used against vehicle targets, one visual that helps identify an R9X strike is a 'cut-like' pattern that appears in the roof of the vehicle that was hit."
"The R9X is a non-explosive weapon, so another visual that helps identify a strike is the lack of evidence showing an explosion took place. If a vehicle is hit and has its roof caved in with the windows still mostly intact, the R9X is a good candidate. The car would very much be destroyed, of course, but it'd also be in better shape than if it was hit with a more conventional explosive weapon," he adds.
Godin says physical evidence that might help show a strike was done with an R9X have also been seen in some cases. "Remnants of a weapon used in a strike near the Syrian city of Idlib in June of 2020 showed an identification label that read 'AGM-114R-9X'. There have also been some remnants seen in other strikes that resemble what could potentially be the blade, though there has yet to be any images online showing a complete blade," he says.
Gen Inam is convinced that the Zawahiri operation involved the R9X and the MQ9 Reaper. "The missile has not caused much damage to the compound. The building has not collapsed. There was no collateral damage as everyone else in the building remained unharmed," he says. "In all probabilities, it was an R9X Hellfire missile fired from an MQ9 Reaper because all other weapons would have caused collateral damage."
However, Godin is hesitant to conclusively say the R9X was used to take out the al Qaeda chief. "We don't really have much visual evidence, so I'd be hesitant to say the R9X was used. It could very well have been, but we have yet to see any of the distinctive hallmarks." He says more information would be needed before we can make the claim.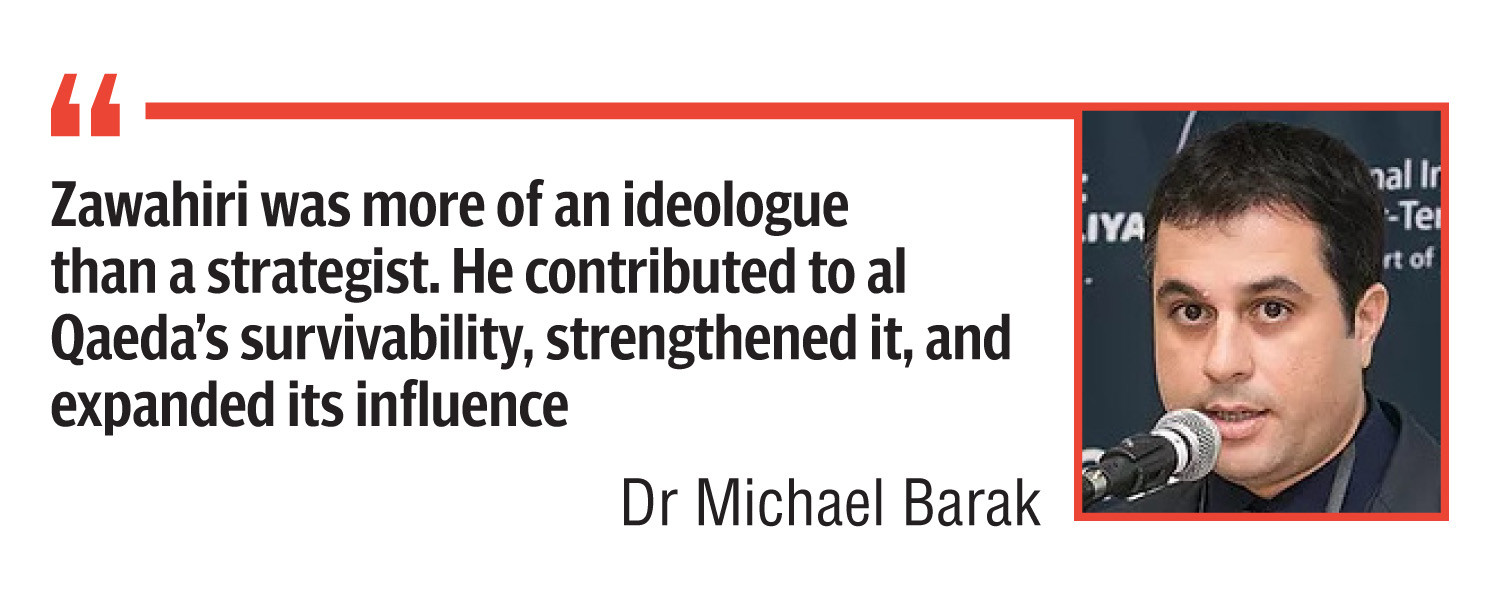 On the efficacy of the R9X, Godin says the suspected strikes it has been used in show that the missile has been very effective at limiting collateral damage. "Only the targeted vehicles were damaged, so the potential injuries/casualties are limited to whoever is in the vehicle at the time of the strike," he notes.
"Just because a person can be targeted doesn't necessarily mean it's a legal strike. That's a bit out of my purview, but human rights watchdogs I've spoken to have brought up that despite the R9X having low collateral damage, the issue of how the weapon is being used is still a concern," he points out.
How was it done?
Now the million-dollar question: which airbase was used to launch the MQ9 drone? Pakistan has denied any role in the strike. Military spokesperson Maj Gen Babar Iftikhar categorically stated that there was "no question of Pakistani soil being used for this purpose". The Foreign Office went a step further to even rule out the use of Pakistan's airspace.
A US media report claimed that the pilot-less aircraft was possibly launched from Ganci airbase, the US transit facility at Manas in northern Kyrgyzstan. There were also media reports of some US air activity in Farkhor in Tajikistan, near the border with northern Afghanistan, 15 to 20 days ago. Other than that, Ayani airbase, in Tajikistan operated by US's Quad partner India, and the CIA-operated K-2 Base in Uzbekistan could also be potentially used to carry out such a strike.
Gen Inam doesn't think a Central Asian base would have been used amid Russia's hostilities with the US-led NATO over Ukraine. "I don't think any Central Asian state has the capability or courage to defy Russia in this way," he says. "And according to my information there is no drone base in any of these countries which is in use, you can't just bring a drone and park it for a couple of days, launch an attack from there, and go back."
The US doesn't have any military bases in Iran or India. The Shamsi and Shahbaz airbases in Pakistan from where the US once operated Predator and Reaper drones have long been vacated. In this situation, the other possible options could be the US bases in the Gulf region.
The Al Udeid airbase, located west of Doha is home to the headquarters of US Central Command and US Air Force Central Command. The US military also uses Al Dhafra airbase in the United Arab Emirates, while the US Air Force is a major tenant of the Thumrait airbase, located in the Dhofar Governorate of Oman.
"I think Al Udeid airbase could be one option. It's an open secret that this base houses MQ9 Reapers. The 36 feet long remotely-piloted aircraft with 66-foot wingspans can fly for as long as 14 hours fully loaded with laser-guided bombs and air-to-ground missiles, reaching speeds of 300mph at an altitude of up to 50,000 feet," says Gen Inam.
"The aerial distance between Doha and Kabul is 1,982 kilometres. The known range of MQ9 Reaper is 1,850 kilometres, but I'm sure it could easily be extended with extra fuel tanks and reduced payload," he says.
"Still it would be a one-way journey. I mean the drone, if it was launched from Al Udeid airbase, would have hit its target, navigated back, and self-destructed somewhere in the mountains," he adds. "It's not a big deal to sacrifice a Reaper in a mission to take out a target who carried a $25 million reward on his head."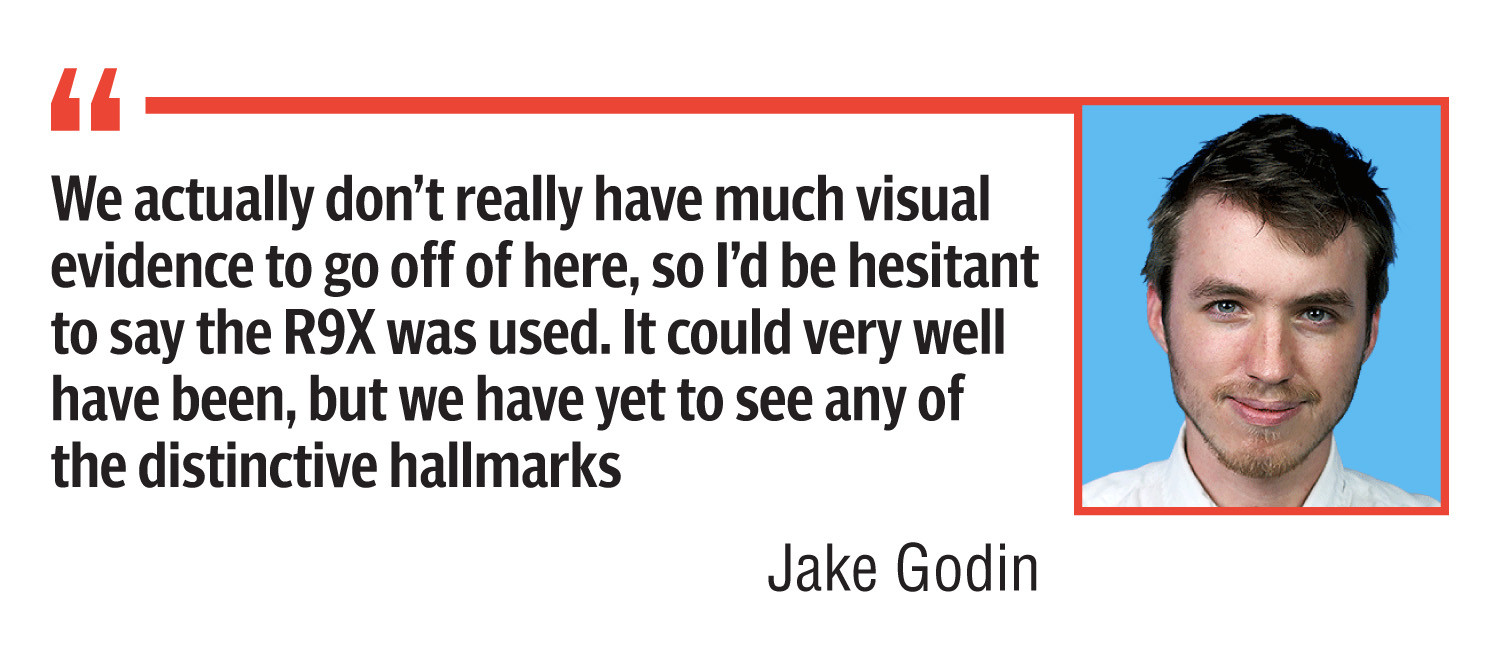 The use of Thumrait airbase could also be a possibility. The aerial distance between Oman and Kabul is 1,588 kilometres, which makes it the nearest and more feasible than Al Udeid. On technical specifications, both could be used for such a mission.
But Gen Inam says all this might be mere conjecture. "I wouldn't be surprised if it turns out that the United States used a newer version of MQ9 Reaper and a secret weapon because they have such capabilities," he says.
Tag, Trace & Track
According to counterterrorism sources, the US Special Operations extensively use satellites to track terrorists and have scores of mini-satellites clandestinely tracking high-value targets (HVT). These satellites can be so small that they can fit in the palm of a hand.
The Special Operations Command is responsible for several programs designed to help locate high-value targets using covert tracking tags, such as Hostile Force Tagging, Tracking and Locating, and Clandestine Tagging, Tracking, and Locating.
Unlike regular techniques to track down enemies and combatants, the Operations Command employs covert tags. Covert tags use radio frequency, identification devices, locking techniques, and also more elaborate technologies, such as quantum dots that could be used to track a single molecule.
The US with the support of its allies has an extensive array of satellites providing it a huge edge over its adversaries. According to the Open Source data, the US has at least 406 satellites, the UK – 5, Israel – 8, Canada – 5, Germany – 6, and France – 8, which significantly boosts its surveillance capabilities.
"This means spotting and hitting a single person through satellite is just a piece of cake. The same might have happened in eliminating Zawahiri," says Gen Inam. "The 'sleeper cells' of US intelligence assets might have contributed to completing the 'intelligence picture'".
A dent in Al Qaeda? Not really!
Zawahiri's killing may not significantly dent al Qaeda. "Zawahiri was more of an ideologue than a strategist. He contributed to al Qaeda's survivability, strengthened it, and expanded its influence," says Dr Barak, who also serves as the Team Leader of the Global Jihad & Jihadi Monitoring Group.
"The most powerful al Qaeda offshoots are in Mali (Jammat Nusrat al-Islam wal-Muslimin headed by Iyad Ag Ghali) and Somalia (al-Shabbab al-Mujahideen)," he says.
Dr Barak believes Sayf al-Adl, who was considered No 2 in al Qaeda, might replace Zawahiri as the group's leader. "Sayf al-Adl is considered a leading strategist and operationally very capable, so he may lead al Qaeda into more activism," he says.
Implications for Islamic Emirates?
After initial denials, the IEA condemned the drone strike as a "violation of international law". "The Islamic Emirate (of Afghanistan) condemns this attack in the strongest possible terms and considers it a clear violation of international principles and the Doha Agreement," Zabiullah Mujahid, the regime's spokesperson, said in a statement.
In a blistering riposte, Secretary of State Antony Blinken accused the Taliban of "grossly" violating the Doha Agreement by sheltering al Qaeda's top leader in Kabul. Blinken said the Taliban defied "repeated assurances to the world that they would not allow Afghan territory to be used by terrorists to threaten the security of other countries."
These angry exchanges aside, if it wasn't an inside job, then Zawahiri's killing will seriously undermine the IEA's efforts for international recognition. "The US will harden its stance and put forward more demands before releasing the $3.5 billion frozen assets of Afghanistan. It may demand more proof that the Taliban do not shelter al Qaeda members," says Dr Barak.
Gen Inam agrees that it could exasperate problems for the IEA-ruled Afghanistan which is beset with a slew of serious challenges, including economic collapse, lack of global legitimacy for their rule, and a worsening humanitarian crisis.
But if it turns out to be an inside job, then this could imperil the Taliban unity, widen the chasm between the Kandahari Group and the Haqqani Network, and trigger further divisions which could ultimately weaken the Taliban's grip on Afghanistan and plunge the country into complete chaos, threatening the security of the entire region.